Sunday 13 April 2008
Colin Farrell: I eat chocolate waffles now instead of drinking beer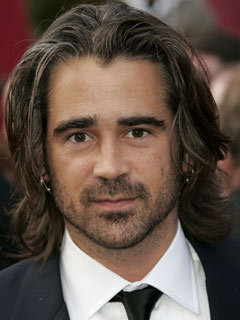 Former hellraiser
Colin Farrell
, 31, entered rebab in 2005 after confessing to heavy drinking, drug taking and womanising.
A sex tape of him and Playboy model
Nicole Narain
was a huge success after being leaked on to the internet but big-budget movies
Alexander
and
Maimi Vice
failed to set the box office alight.
The actor is hoping for a better reaction to new movie
In Bruges
, a comedy. A surprising choice, as Colin admits: 'I'm not known for having a funny bone in my body.'
And, of course, the recovering alcoholic had to shoot all his scenes cold stone sober.
'I couldn't go near the beer,' he says. 'That was the irony about working in
Bruges
at this stage in my career. They have 480 beers. I could've had a different time two years ago! I had chocolate instead. I had a lot of
chocolate waffles
and crêpes.'
Colin Farrell: I love to get steamy and sticky with a bunch of Russian men>>
Colin Farrell: My son is a gift>>
Colin Farrell spends £1,000 on tramp >>
Colin Farrell: I'm off booze for my son>>
See
Colin Farrell
in this trailer for
In Bruges
...
Colin Farrell's love life has always been interesting....
2001: Colin's marriage to actress Amelia Warner lasted just four months
2002: He was with 4-year-old son Jimmie's mother, model Kim Bordenave, for a year. Jimmie suffers from rare delayed development disorder Angelman Syndrome.
2003: He kissed Britney Spears on a balcony but insisted: 'We're just good friends.'
2004: He was linked to Angelina Jolie, who he called 'his perfect woman.'
See
Colin Farrell
talk about his writing and
In Bruges
in this video....
See the full story in Now magazine - out now!