Thursday 27 March 2008
Kerry Katona to have boob reduction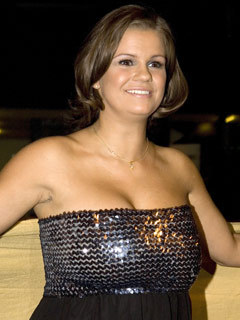 Pregnant Kerry Katona is planning to have a breast reduction after she gives birth.
'The turning point was when I saw myself on Jonathan Ross,' she says. 'My boobs looked enormous! I know I'm pregnant, but I didn't like it.
'They're getting saggy now [so] I thought it was time I did something about them.
'Once the baby is born I can concentrate on getting my body back to normal – and a boob op is the first thing on my list.
'I want to go down 2 sizes and have a lift.'
Kerry, 27, who is due in May, also hopes surgery will ease her back pain.
'My back has been aching, which [my doctor] said was due to my boobs,' Kerry says. 'Being pregnant has made them even worse – at the moment, I'm an H-cup!
Pregnant Kerry Katona NOT suffering from pre-eclampsia>>
SHOCK! Pregnant Kerry Katona rushed to hospital>
SHOCK! Pregnant Kerry Katona checks into The Priory>
Kerry Katona is NOT suffering from severe stress, confirms rep>>
SEE VIDEO of Kerry Katona on her new MTV show Crazy In Love...
EXCLUSIVE Max Clifford: Kerry Katona's husband is not a love cheat>>
Kerry Katona: I want to take DNA to see if bus driver is my dad>>
Kerry Katona hires detective to find her real dad>>
I had sex with Kerry Katona's husband says his ex>>
Kerry Katona threatens Mark Croft with divorce>>
Kerry Katona stays asleep during sex>>
Kerry Katona: My mum-in-law slapped me round the face>>
Kerry Katona: It's a boy at last!>>
Kerry Katona refuses to give birth on TV>>
SEE VIDEO Max Clifford: Kerry Katona has not been dropped by Iceland>>