Tuesday 25 March 2008
Jessica Alba: Women should enjoy casual sex too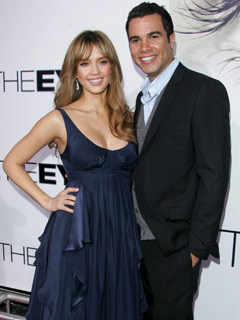 Jessica Alba, who's expecting her first child with fiancé Cash Warren, 29, says women should not be chastised for enjoying sex.
'I don't think a girl is a slut if she enjoys sex. I don't do one-night stands, but I'm not judgmental about women who do,' she says. 'Men do it all the time.'
Unsurprisingly, Jessica, 26, isn't bothered about playing up her sex symbol status in movies.
'Men are visually stimulated,' she says. 'They are easy to manipulate. All you have to do is dress up in a sexy outfit.'
But the actress says she'd never cheat on a partner.
'I am 100% faithful and I expect it to be returned,' she tells The Sunday Times Magazine.
Jessica Alba is having a baby>>
Jessica Alba: 'I don't do nudity'>>
Jessica Alba is engaged to Cash Warren>>
Jessica Alba postpones wedding>>
See Jessica Alba's MySpace page>>