Thursday 20 March 2008
Rebecca Loos: I don't think about Victoria Beckham now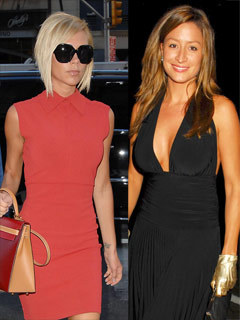 Rebecca Loos has revealed that she's finally put her fling with David Beckham behind her.
And the Love Island no longer worries what Posh, 33, thinks of her either.
'I don't think about Victoria Beckham now,' she says. 'Our lives crossed, but we've gone our separate ways. I've got more to think about.'
Rebecca, 30, claimed she had a 4-month affair with Becks, 32, in 2004. He strongly denied the allegations.
Despite moving on, Rebecca says she'd think twice before getting involved with another married man.
'It was never my intention for it to happen, it was just the way it turned out – but I would never do it again,' she says.
'It's too painful. The man gets the best of both worlds, but it's you who's left suffering.
'A man can shag hundreds of women and get a pat on the back, but if a woman does it, she's called a slut. It's a man's world.'
Hear Rebecca Loos' single here>>
Rebecca Loos follows Victoria Beckham to the US>>
Rebecca Loos: I saved David and Victoria Beckham's marriage>>
Victoria Beckham: My heartache over Rebecca Loos claims>>
Rebecca Loos blasts David Beckham>>
Rebecca Loos moves back to Spain">>