Wednesday 26 March 2008
Lacey Turner: I feel like a schizophrenic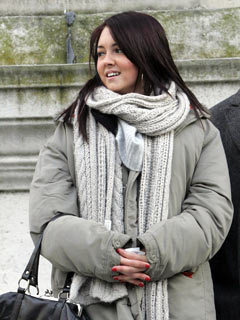 Lacey Turner as EastEnders' Stacey Slater
Lacey Turner insists she has nothing in common with her EastEnders character Stacey Slater.
'I bloody hope I'm nothing like her,' she says. 'I can be a bit naughty sometimes. I used to shout at my mum a lot but that's about it.
'I feel like a schizophrenic, because at work I'm one person and at home I'm someone else.'
Lacey, 19, also hates the wardrobe department clothes she wears in Albert Square.
'The worst thing is the pink puffa jacket. I've been trying to get rid of that for ages and I'm now developing a very strong hate for her fluffy coat.
'I might be able to get rid of it. I think it would be easier to set alight than the pink one.'
But, despite the naff outfits, Lacey really enjoys playing Stacey in the BBC soap.
'I do love everything about her,' she tells Celebs On Sunday. 'She's boisterous and a loud mouth. She gets on with her life and says what she wants and does what she wants and she doesn't care.
'I think she's great.'
EastEnders' Lacey Turner attacked >>
Lacey Turner: I'll wear pyjamas to my wedding>
See the official EastEnders website>
Laura Czerniak