Thursday 13 March 2008
Britney Spears to be paid £2m to perform in Dubai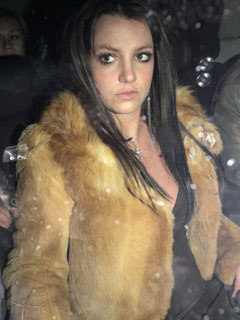 Britney Spears has been offered the chance to travel to Dubai to give a private performance of Slave 4 You for a group of wealthy businessmen.
The deal is reported to worth £2 million and is being brokered by Sheeraz Hasan, who founded Hollywood.tv with the backing of investors for His Highness of Dubai.
But first Sheerez wants to get Paris Hilton, 27, on a plane to the United Arab Emirate.
'I'm going to take Paris Hilton to Dubai – the sheikhs said any amount of money she wants is fine – and next I'm going to take Britney,' Sheeraz tells the Daily Star.
'She can have her own island. Everything Britney does is news – Britney pumps gas, Britney forgets to put milk in her coffee.'
Britney, 26, is currently on a £750 allowance.
Jamie Spears to remain in control of Britney's affairs until July>>
See Britney Spears walking into a metal bar in this video>>
SEE PICS of Britney Spears' 'baby bump' is getting bigger>>
Britney Spears snapped with baby bump?>
Britney Spears not pregnant – she goes out with bloodstained knickers on show>>
Adnan Ghalib: Britney Spears is hoping to get pregnant with my child>>
Britney Spears has emotional reunion with kids>>
Britney Spears CAN see her sons>>
Sam Lutfi: Britney's parents want to look like heroes>>
Sam Lutfi banned from seeing fuming Britney Spears>>
Jamie Spears given control of Britney Spears' safety, home and cash>>
Britney Spears' psychiatrist is a caring and kind doctor>>
Britney Spears has been classified as 'gravely disabled'>>
Britney Spears: They're not sending me to the nut house>>
SHOCK! SEE VIDEO Britney Spears taken to hospital by stretcher >>
SEE VIDEO of Britney Spears crying after reported fight with Sam Lutfi>>
Adnan Ghalib: I haven't sold Britney out>>
Britney Spears' pal Sam Lutfi grilled by K-Fed's lawyer>>
Britney Spears goes naked on shopping trip>>
SHOCK PICS Britney Spears proves she's not pregnant>>
News agency writes Britney Spears' obituary>>