Tuesday 26 February 2008
Kate Moss trying for baby No 2?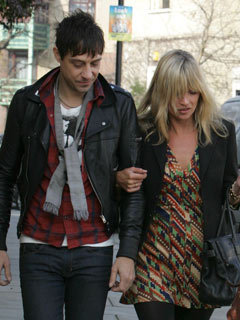 Kate Moss is said to be desperate to have a baby with her boyfriend, The Kills guitarist Jamie Hince.
The supermodel already has a daughter Lila Grace, 5, with magazine publisher Jefferson Hack. But insiders says she wants more.
And she's even on a special diet to help her conceive.
'Kate is desperate to have another child,' a source tells the Mail On Sunday.
'She loosely follows the same cleansing diet as Gwyneth Paltrow, but she's tailored it around trying to get pregnant.'
Kate, 34, is also said to be giving up alcohol and coffee.
See Kate Moss's knobbly knees in Now's Celebrity Spy Gallery>>
Jamie Hince moves in with Kate Moss>>
Kate Moss sunbathes topless with mystery man>>
Kate Moss and fella row over her getting together with Pete Doherty>>
Kate Moss rows with new fella>>
REVEALED: Kate Moss's new fella>>
Kate Moss calls Pete Doherty The Slug>>
Kate Moss celebrates her birthday...without Sadie Frost>>
Kate Moss leaves birthday party early>>
SEE PICS of Kate Moss's birthday party>>
Kate Moss to hold 34-hour party>>
Locals complain about Kate Moss>>
H&M drop Kate Moss over drug claims>>
SEE Kate Moss's exclusive Topshop range>>
See Kate Moss at Topshop's official site>>
Alison Adey