Thursday 21 February 2008
Jordan: My feud with Kerry Katona's back on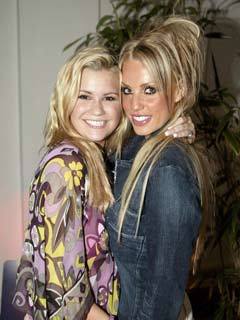 Jordan has fallen out again with Kerry Katona.
The pair seemed to have called a truce but after the glamour model's former nanny recently questioned her fitness as a mother in a tabloid interview, Kerry was quick to comment.
'She said that bad stories about me should bring me down a peg or two,' fumes Jordan, 29.
'I thought that was really unnecessary because I've not been saying anything bad about her, and she's been nice about me recently.'
The pair first stopped speaking after Jordan slagged off Kerry's husband, Mark Croft. They kissed and made up last year, but it seems Kerry, 27, still holds a grudge.
'I wasn't invited to Kerry Katona's baby shower but I don't care,' Jordan tells OK!
'Maybe it was her bipolar medicine.'
Jordan: I'm selling my breast implants for £1 million >>
Kerry Katona: Jordan's had a face transplant>>
Jordan says sorry to Kerry Katona>>
Hannah Davies