Thursday 21 February 2008
Amy Winehouse and husband Blake heading for divorce?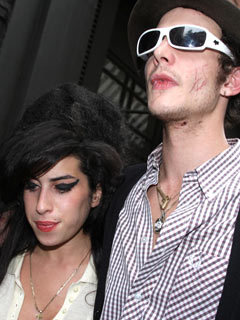 Amy Winehouse sent a loving message to husband Blake Fielder-Civil at the Brits last night, but insiders wonder how long the marriage can last.
Concerned family members want the singer to give her jailbird spouse, 25, the boot.
Blake's been held at Pentonville Prison since November on charges of attempting to rig a trial and a separate GBH offence so Amy has hardly seen him.
If the strain does lead to a divorce, relatives may well claim that Amy, 24, was not in full in control of her faculties when she tied the knot.
'I don't think he will be able to claim a percentage of her wealth,' a source tells The Sun.
'He will be offered a one-off payment and told if he goes to court to get more he will end up with nothing, as Amy was not in a fit mental state to marry him.'
Amy Winehouse celebrates Grammy glory with Blake No2>>
See Blake Wood with Amy Winehouse here>>
Amy Winehouse is big winner at Grammys>>
See Amy Winehouse perform at the Grammys in this video...
Amy Winehouse IS granted visa>>
Amy Winehouse leaves rehab to sort out US visa>>
Amy Winehouse in rehab at last>>
See Amy's drug shame in this video...
SHOCK Amy Winehouse smokes 'crack' at party>>
SEE VIDEO of Amy Winehouse allegedly smoking crack>>
Amy Winehouse turns up late to Blake's trial>>
Amy Winehouse snapped slumped in car >>
Amy Winehouse arrested>>
Amy Winehouse's dad: My daughter's not on suicide watch>>
Dad: Amy Winehouse is monitored all the time>>
Amy Winehouse to be quizzed by police>>
Amy Winehouse picks up groceries after visiting Blake>>
Amy Winehouse snapped with white powder in nose again>>
SEE PICS of all the celebs at the Grammy Awards>>