Wednesday 30 January 2008
SHOCK! Cristiano Ronaldo loves bingo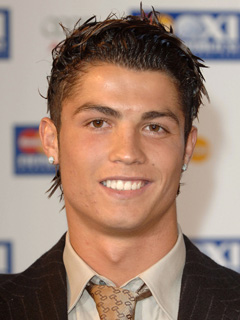 Cristiano Ronaldo has revealed he's a huge fan of bingo.
The Manchester United star, 22, was given a DVD version of the game as a Christmas present – and now he's hooked.
'It can be very exciting because you can be there waiting for a long time for just the one number to make the game complete,' he tells a Portuguese paper.
'Then you see one of your friends you are playing against get his lucky number before you.'
Cristiano claims bingo has also helped him pick up English words and phrases.
And his teammates are also considering joining him for friendly sessions.
'[Cristiano] has got just about every games console going,' a source tells The Daily Star.
'At the moment the other lads are really into their Nintendo Wii games. They have tournaments against each other.
'But the players know they mustn't risk injuries by playing them too long. Perhaps they would be safer playing bingo like Cristiano.'
Cristiano Ronaldo: I'm weak when it comes to cakes>>
Cristiano Ronaldo slapped with pie ban>>
Gemma Atkinson's on-off fella Cristiano Ronaldo parties with 5 escort girls>>
Cristiano Ronaldo to party with hookahs>>
Cristano Ronaldo relieves tension by juggling with his ball>>