Wednesday 23 January 2008
Heath Ledger died from pneumonia?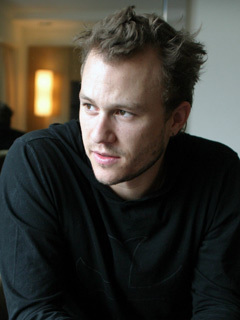 Heath Ledger's death may have been caused by pneumonia, US site
TMZ.com
has revealed.
The actor's body was found at his New York apartment yesterday afternoon and police have confirmed he was naked, face down and curled up in a ball on the floor.
Several reports claimed the 28-year-old had died from a drug overdose because prescription drugs were found in his room – but TMZ's sources believe he was suffering a severe lung infection.
It is also claimed Heath suffered a heart attack.
But despite the differing reports, Lieutenant John Grimpal, from the New York Police Department, told Macquarie Radio today that nothing could be certain.
'This is the first I'm hearing that,' he says.
'The medical examiner, once he or she conducts an autopsy, will determine exactly the cause of death.'
See our Heath Ledger tribute photo gallery>>
Heath Ledger death suspected heart attack>>
Heath Ledger dead>>
See video of Heath Ledger talking about The Joker in October last year...
Heath Ledger's psycho makeover>>
Jake Gyllenhaal answers gay rumours >>
See Heath Ledger's IMDB entry >>
Alison Adey