Wednesday 16 January 2008
Kerry Katona: Jordan's had a face transplant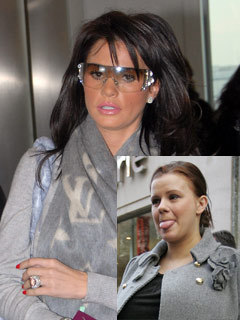 Kerry Katona isn't too impressed with Jordan's new image – and reckons she's had more than just her boobs reduced.
The glamour model flew to LA over Christmas and returned with not only a smaller chest but brown hair, a button nose and fuller lips.
'I've seen the pictures of Katie Andre's new nose job and she looks completely different,' insists Kerry.
'It looks like she's had her lips done too – in fact it looks like she's had a lot done. I think I prefer her how she was. Imperfections can be nice.'
The 27-year-old also doesn't approve of the Beckhams giving one of their sons a fancy phone for Christmas.
'David Beckham has apparently bought Brooklyn an iPhone which is totally ridiculous,' Kerry writes in her OK! diary.
'Why does an 8-year-old boy need one? My girls haven't got one yet – we've said they can when they're about 12. I've not even got one!'
SEE PIC Jordan has nose job>>
Kimberly Stewart: Jack Osbourne has my breast implants hanging on his bathroom wall>>
Kerry Katona plans another boob job>>
Jordan in hospital after bad fall>>
Jordan: I am looking forward to my boobs being smaller than my head>>
I'm too busy with boobs for Christmas shopping>>
Jordan: I want my vagina tightened>>
Alison Adey