Saturday 29 December 2007
SEE VIDEO Sarah Harding: I wore stockings and suspenders for St Trinian's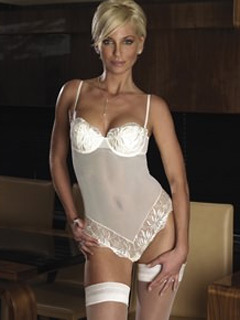 Sarah Harding has revealed that she spiced up the St Trinian's film set by wearing racy outfits.
The singer, 26, and her Girls Aloud bandmates filmed a cameo appearance for the movie – and Sarah wanted to make sure she'd be noticed.
'I'm not sure I look so innocent,' she says. 'I really went for it. Stockings, suspenders and a skirt up to my a***. I just couldn't resist.'
Fellow bandmate Kimberley Walsh, 26, says that trying to knock more than 10 years off their ages wasn't easy.
'We're meant to be 15 or 16-year-old schoolgirls,' Kim tells the Daily Record.
'Let's just say we spent an awful long time in make-up. We're not meant to look sexy or anything. It's more sweet and innocent. We didn't just dance around, we completely rocked it like teenagers.'
See your FREE horoscope prediction for 2008>>
Watch the St Trinian's trailer below...
Rupert Everett: I fancied Colin Firth>>
Sarah Harding models Ultimo lingerie>>
See the official Ultimo website>>
Sarah Harding gets Star Trek-style hairdo>>
Sarah Harding flashes her breasts>>
Sarah Harding strips off>>
Gemma Atkinson wears slinky corset for Ultimo shoot>>
Gemma Atkinson models sexy La Senza underwear>>
See our Gemma Atkinson photo gallery>>
See our gallery of the best celebrity boobs>>
See Sarah Harding sizzle in Girl's Aloud single Sexy! No No No in this video...