Friday 23 November 2007
SEE VIDEO Shane Lynch: Boyzone couldn't stand each other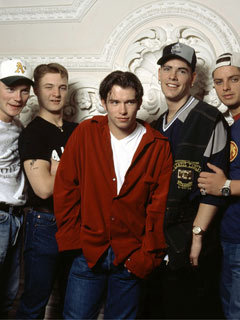 Shane Lynch reveals that the Boyzone bandmates didn't speak to each other for 7 years after their split.
'I'd read things in the newspapers that one or other of the boys had said about me and instead of picking up the phone, I'd get angry and frustrated,' he reveals.
But now Boyzone have reunited for a tour, 31-year-old Shane says they're the best of pals.
He was delighted with the support the lads showed him when he appeared on TV in The Games.
'We got together after the show, sat round a table with a few pints of Guinness and thrashed out all the rubbish,' he tells Hello!
'We realised that we were actually all good friends.'
Shane was desperately unhappy when he was no longer working with Ronan, Stephen, Mikey and Keith so is relieved they're reunited.
'I was dead inside,' he says. 'I woke up in the morning feeling like a lost soul.'
Watch Boyzone on Children In Need 2007...
Boyzone on tour next year - no matter what >>
Hannah Davies