Thursday 08 November 2007
Heather Mills calls Paul McCartney to ask if he cheated on her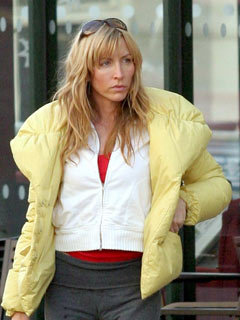 After snaps of Paul McCartney kissing Nancy Shevell were revealed in the tabloid press, Heather Mills phoned Macca to grill him.
Her publicist has confirmed that the ex-glamour model, 39, asked Sir Paul if he cheated on her during their marriage.
Heather wanted to know if he was having a relationship with Nancy, 47 - and if so, when their relationshipo started.
'She did ask him if this was going on while they were together and Paul swore that it did not happen then and that she was just a friend,' Heather's US publicist Michele Blanc confirms.
Nancy, 47, is now separated from lawyer hubby Bruce Blakeman.
Sources claim Sir Paul and Nancy have become closer as they both come to terms with the end of their marriages.
'She is someone he can talk to,' the pal tells the Daily Mirror. 'He finds her challenging and interesting company.
'Her marriage has broken down and so has his. They are both single people who have experienced a break-up and they have a lot in common.
'She also knew Linda and that is a great comfort to him.'
Sir Paul McCartney snapped with married woman>>
Heather Mills 'not distraught' over Paul's kiss>>