Thursday 18 October 2007
Britney Spears doesn't wear knickers because she finds them uncomfortable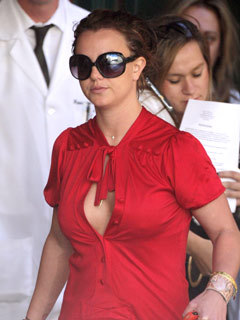 Britney Spears doesn't wear knickers because she finds them restricting - or at least that's what her pal Tuesday Knight reckons.
The jewellery designer – who's been friends with Brit for 4 years – says he's repeatedly told her to stop going out commando but she refuses to listen to him.
'Not wearing panties is ridiculous,' he says, 'and I've told her!
'Britney knows it's stupid, but says she just doesn't like to wear underwear. She finds it uncomfortable.
'I've said "You can't just get out cars baring all", I've told her no one will take her seriously if she does this.'
But despite Brit's unconventional habit, Tuesday insists the singer's a fantastic mum - and deserves custody of her two sons Jayden James, 1, and Sean Preston, 2.
'Britney has always been a good mother,' he tells In Touch weekly.
'I want people to know she's the better parent – not Kevin! Britney asked me "Doesn't anyone get to see this part of me?"
'The answer is, no, they don't. People just read about her not wearing underwear.'
There's a simple solution to that problem. Panties on.