Monday 08 October 2007
SEE VIDEO Kelly Brook: My boobs have grown to 30FF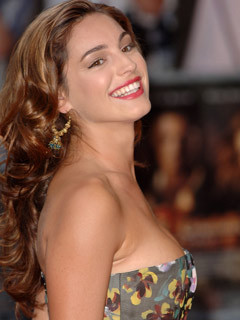 Kelly Brook has revealed that her most famous assets have grown even bigger – and she's now a 30FF.
But while she's proud of her curvy figure, the 27-year-old says she hasn't always felt confident about her body.
'I was very self-conscious of my chest at school,' she tells the Daily Mirror.
'You had the boys watching through windows… But when I got to 16 I realised it wasn't too bad.'
And now the only thing the Strictly Come Dancing star has to worry about is containing her boobs on stage while dancing with Brendon Cole.
'Rehearsing the jive got me a bit panicky,' Kelly admits.
'I think they want me to bounce over the stage and pop out. I've grown to a 30FF. My boobs were under my chin!'
I'm sure Brendon would be more than happy to help if the worse did happen...
See video of Kelly Brook shaking her stuff in Strictly Come Dancing...
Alison Adey