Wednesday 19 September 2007
Heidi Klum: I used to be called pizza face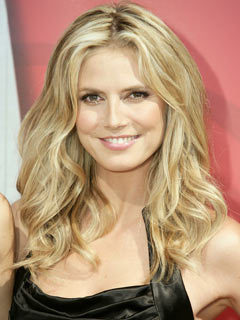 Heidi Klum has revealed she was picked on in school for being spotty.
The beautiful 34-year-old is the third highest paid model in the world - after Gisele Bundchen and Kate Moss - but her classmates in Cologne, Germany, didn't think she was a stunner.
'I was never really an ugly ducking,' says recalls, 'but I used to get called "pimple face" and "pizza face" quite a lot. There was nothing special about me at all.'
That all changed when Heidi turned 18 and entered a TV modelling contest. She scooped the £150,000 prize and was signed to a top agency.
Now she has a contract with Victoria's Secret that's rumoured to be worth £13million and is happily married to pop star Seal.
The mum-of-three is content with her looks and doesn't want to resort to Botox or surgery.
'I've never had anything done as I don't want to morph into something strange,' she tells Weekend.
'I want to age gracefully and be a dinosaur.'
Holly Arnold