Friday 06 July 2007
Alex Curran's boob job shocks gran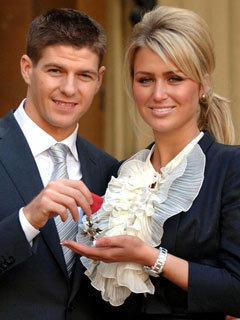 Steven Gerrard's best man made a boob in his wedding speech by joking about bride Alex Curran's breast implants.
Jonathan 'Boggo' Boggan praised the 27-year-old footie hunk's professional triumphs.
But he made an extraordinary slip when he told shocked relatives that Stevie's greatest success was 'when you got Alex's jugs done', reports The Sun.
To make matters worse, the blushing bride's gran didn't know about the op.
Luckily, the Liverpool star and Alex, 24, laughed the gaffe off.