Thursday 27 March 2008
Christina Aguilera: I haven't lost my baby weight yet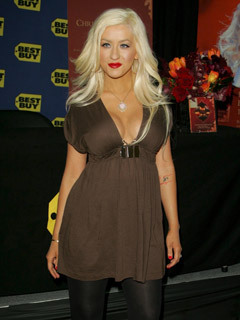 Christina Aguilera has revealed that she hasn't yet shifted her baby weight since giving birth to her son - but she doesn't care.
The singer, who gave birth to Max Liron in January, says she likes her fuller figure.
'I haven't got back to my pre-baby weight yet, but I'm loving my body,' she says. 'My husband [Jordan Bratman] loves my cleavage in particular!'
But Christina, 27, has vowed to get back into shape before she goes back into the recording studio.
'I've just got back into the gym and I'm doing boxing and weights,' she says. 'I want to be in shape for my next record.'
And she says that being a mum won't cramp her sexy style.
'I still get dressed up and wear jewels,' she adds. 'You don't want to wear great big diamond necklaces with a little baby, but it's nice to get a bit dressed up.
'Being a mom is special. Every day I wake up happy.'
SEE PHOTO of Christina Aguilera showing off new born son Max>>
Baby boy for Christina Aguilera>>
Nicole Richie has a baby daughter>>
Christina Aguilera to have Caesarean>>
Christina Aguilera celebrates birthday>>
Christina Aguilera wants pregnant nude snaps for wall>>
Christina Aguilera: My hubby has Super Sperm>>