Tuesday 11 July 2006
Keira admits anorexia in family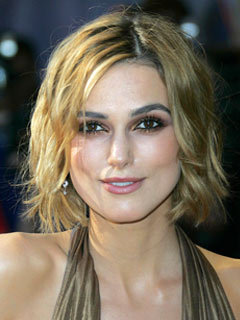 Beautiful Keira Knightley has spoken out about the pressure to stay thin in Hollywood.
The Pirates of the Caribbean star denies suffering from anorexia but says close family members have been affected.
She says: 'I've got a lot of experience with anorexia - my grandmother and great-grandmother suffered from it, and I had a lot of friends at school who suffered from it, so I know it's not something to be taken lightly and I don't.
'It's quite interesting because it's normally high-achieving women who suffer from it because I guess they are control freaks.'
She adds: 'I'm not saying there aren't people in the film industry that suffer from it, because I am sure that there are, but I am not one of them.'
But the 21-year-old, who shot to fame in movie Bend it like Beckham, has admitted to feeling pressure to maintain her small frame.
She says: 'I'm a skinny person and I remember recently when I went into clothes shops in LA, even I couldn't fit into some of them. It's worrying to see people pushing themselves to terrifying lengths to achieve what's perceived as being beautiful today.'