Wednesday 24 May 2006
Tamzin Outhwaite's Mediterranean Melt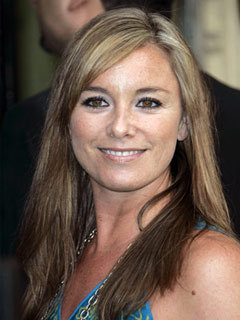 'A quick and easy dish I love to make… I hope sharing it can help raise money for Leukaemia Research.'
Serves 2
Ingredients
1 large sun-dried tomato and olive oil ciabatta bread
1 red pepper
4 slices Parma ham
2 plum tomatoes, sliced
50g/2oz Cathedral City cheese, sliced
A few fresh picked basil leaves
2tsps balsamic vinegar
Method
1 Cut the ciabatta in half, lengthways.
2 Grill the red pepper until the skin has blackened, then remove the skin (or simply buy ready prepared in a jar!). Then layer the peeled red peppers, Parma ham, plum tomatoes and Cathedral City on to the cut halves of ciabatta. Place under a medium grill for 3-5 mins until the cheese is melted.
3 Finally, scatter over the basil leaves, add a splash of balsamic vinegar and serve.
Recipe from Family Favourites Recipe Book (in aid of Leukaemia Research). To buy a copy (£3.50 inc p&p), visit
www.lrf.org.uk/familyfavourites
or call 020-7269 9005.