Monday 07 January 2013
Anne Hathaway's secrets from THAT Les Misérables hair scene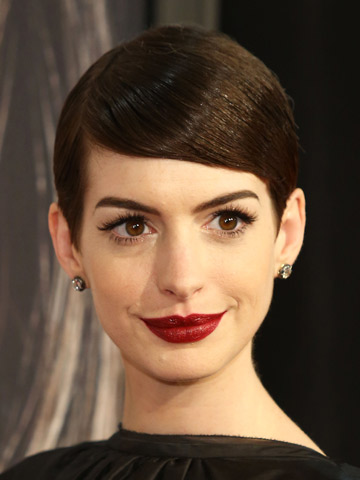 Anne Hathaway's turned a traumatic chop into a super-sleek hair triumph
Anne Hathaway will surely win the Oscar for most traumatic on-screen hair transformation when Les Misérables hits the big screen this week.
Anne plays Fantine, a single mum who's fallen on hard times and is forced to sell her hair to make ends meet.
Anne reveals: 'When you're seeing it in the film, that is my actual hair being cut off. I have a rule: if it doesn't grow back, CGI.
'What you see on screen was a little bit of a mixture of my real emotion and acting. We were wearing earpieces, so the song ends and I was going to have my hair cut in total silence, which was unbearble.'
Anne did her best not to get upset.
'I try to be as tough an actress as possible but even I couldn't do that, so sound guy Simon Hayes piped in a little song I'd asked him to play again and again and again, which focused me enough to do my job,' Anne explains.
'The song is Thank You For Nothing by Elizabeth & The Catapult. It's really good. It's weepy. I played it a couple of weeks later at one of Russell Crowe's dos at his house and he said: "Oh God, that's such a chick song." And I said: "Yes, and you're going to listen to it tonight and cry!"'
SEE VIDEO Watch Anne Hathway's emotional Les Misérables hair scene...
SEE VIDEO The song Anne Hathway listened to when she was having her hair cut off...
Alison Tay
SEE PICTURES Anne Hathaway in Celebrity weddings 2012
SEE PICTURES Anne Hathaway stuns in white maxi dress at The Dark Knight Rises film premiere in New York

SEE PICTURES Anne Hathaway at The Dark Knight Rises movie premiere in London