Tuesday 17 July 2012
Anne Hathaway proves short hair can be sexy with a plunging cleavage dress at The Dark Knight Rises premiere!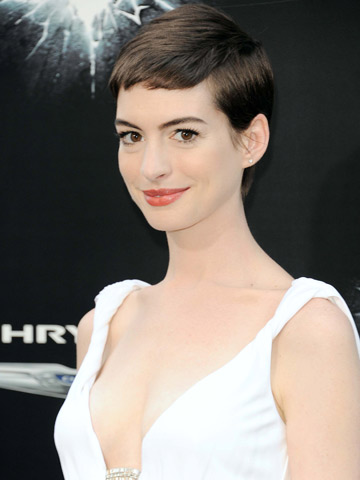 Anne Hathaway shows of her pixie crop at The Dark Knight Rises premiere in New York
Anne Hathaway rocked the red carpet at The Dark Knight Rises premiere in New York, showing off her short cropped hair with a plunging neckline dress.
Proving that her androgynous pixie cut can be sexy, Anne – who plays Catwoman in the film – gave her look a feminine touch with a long Prabal Gurung peplum dress that showed off her cleavage.
Anne's gamine crop is for her role as a French prostitute in Les Misérables and a big change for the actress, who often plays an ugly duckling who turns into a swan.
In The Princess Diaries and The Devil Wears Prada, a big part of Anne's sexy transformation is the taming of her wavy, brown hair – but it seems she won't have to worry about that for a while.
Is this Anne's best hair look yet we wonder?
SEE PICTURES Anne Hathaway stuns in white maxi dress at The Dark Knight Rises film premiere in New York>>
Bonita Turner