Thursday 12 July 2012
SHOCK! X Factor judge Tulisa Contostavlos goes blonde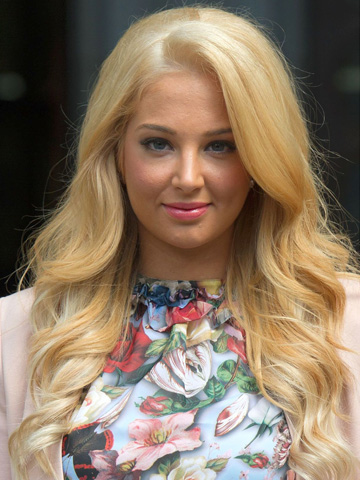 Tulisa Contostavlos shows off her new blonde hair
X Factor judge Tulisa Contostavlos left London's High Court after settling her sex tape court case today with newly blonde hair.
The singer's dark brunette locks were gone and replaced with a mass of loose sandy waves.
The X Factor's resident hairdresser Jamie Stevens created the singer's new look and his sister Tasha, head colourist at his salon, was responsible for the shade.
Tulisa's initial attempt at bleaching her hair turned it ginger, so she went to the brother and sister for help!
Tasha said: 'This colour is an expensive champagne blonde and suits Tulisa's skin tone more than a platinum white would. She's got warm skin and beautiful blue eyes and this really complements her look – it's a lovely classy shade.
'The colour took over 6 hours of correcting, cleansing, deep conditioning treatments and colouring. Tulisa's thrilled with the style and has been Tweeting pictures of herself.'
Jamie then cut Tulisa's hair and his salon's extensions specialist Harry Casey put in some extra pieces to complete the look.
SEE PICTURES Tulisa Contostavlos joins Rita Ora and Conor Maynard at T4 On The Beach>>
SEE PICTURES Tulisa Contostavlos joins The X Factor judges for Manchester auditions>>
SEE PICTURES Tulisa Contostavlos Style File>>
Karen Buglass