Wednesday 27 June 2012
How to get Blake Lively's glamorous retro waves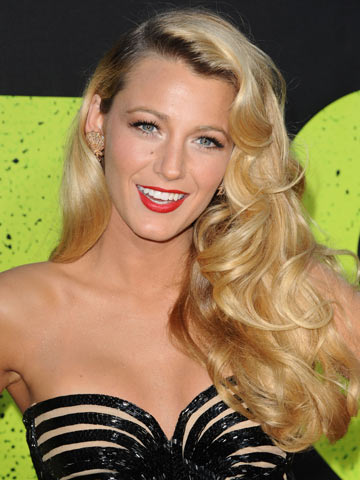 Gossip Girl Blake Lively vamps it up with sexy Hollywood waves
Blake Lively
was looking super-hot at the Savages premiere in LA this week, wearing a
Zuhair Murad
dress, vampy red lips and a glowing mane of tumbling waves.
Blake wore her hair swept over her shoulder in a look that screams Hollywood screen siren.
Get in touch with your glamorous side and follow these steps from Nicky Clarke to achieve that retro style:
1. Prep hair by drying until about 70 per cent drys. Make sure the hairline is clean and smooth, using straightener on the roots if necessary.
2. Using the brow of your eye as a guide, make a diagonal parting to just in front of the crown.
Take a triangular section half way up the parting and comb across to the top of the brow of the opposite eye – this is your fringe section.
3. Apply Nicky Clarke Classic Compact Heated Hair Rollers, £19.99 from Boots.
4. For the front fringe section, bring hair out at 90° from the forehead and wrap the hair around the roller, ensuring that it's flat, then keep on wrapping to the ends. Use the clips to hold in place.
5. Continue to apply the heated rollers in small sections. Be sure not to roll too close to the root - this look requires a little root drag.
6. Allow the rollers to cool, use a hair net if necessary and leave in for approximately 15 minutes.
Once cooled, gently take the rollers out and you'll see a barrel curl fall down. Use a large wide-tooth comb to comb the hair downwards.
7. Place large clips in the front of the hair around the face to accentuate the shape.
Mist with hairspray and follow with a gentle comb-through.
8. Take the front clips out and there you have it - Blake Lively eat your heart out!
Jade Sprowson