Wednesday 06 June 2012
Cheryl Cole rocks sexy bouffant hair for Diamond Jubilee concert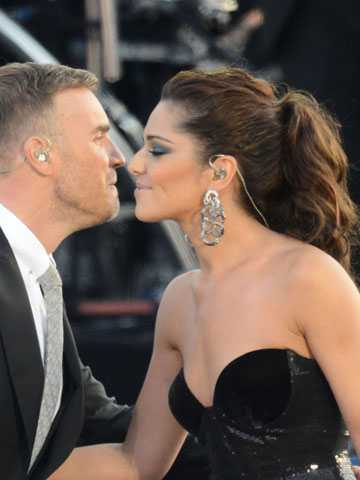 Cheryl Cole's hair was the best thing about her Queen's Diamond Jubilee concert performance
Cheryl Cole's
singing may have been slammed at the
Queen's Jubilee Diamond concert
but her
sexy hairstyle
didn't let us down.
Luckily for Cheryl, her beautiful Eva Minge gown and rocking bouffant ponytail helped distract from her dodgy vocals.
With a little time and effort, you can achieve Cheryl's voluminous pony by following the steps below:
1. First, work a texturising spray or creme, such as Bumble And Bumble's BB Texture (Un)Dressing Creme, £21.50, or L'Oréal Professionel Tecni Art Constructor, £11, through hair. Then rough dry with a hairdryer for a beachy, tousled look.
2. Next, take the front section of your hair from temple to temple, about 2 and a half inches deep, and clip it out of the way. If you have a fringe or stray hairs, pin them out of the way for now.
3. Draw the sides of your hair back off your face. Keeping it as smooth as possible, put it in a ponytail with a band at the crown of your head. Let the back of your hair hang down loosely.

4. Backcomb the top section heavily, one small section at a time. Use hairspray on each section before and after you backcomb to give it extra hold.

5. Use a paddle brush to smooth the outer surface of this section. Draw it back to the crown while pushing it forward enough to form the quiff. Be careful not to untangle the backcombed hair during this process.
SEE PICTURES Cheryl Cole wears Victoria Beckham>>
NEW PICTURES Cheryl Cole stuns in red hot designer dress at Cannes Film Festival 2012>>
SEE PICTURES Cheryl and Ashley Cole: The story so far>>
SEE PICTURES Cheryl Cole impresses US in sexy mini dress>>
MORE PICTURES Cheryl Cole's sexy black backless dress shows off new tattoo at The Brit Awards>>