Wednesday 09 May 2012
Cameron Diaz: I cried when I got an accidental bob haircut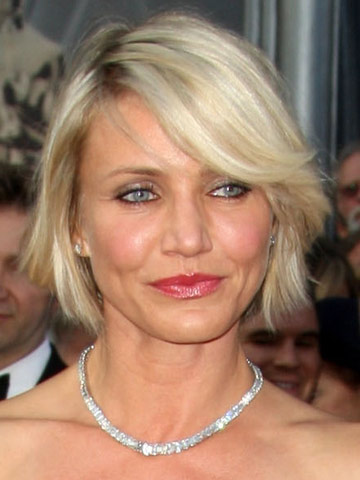 It took Cameron Diaz a while to get used to her short hair
Fast approaching 40,
Cameron Diaz
showed off her long legs and short blonde hair on
The Tonight Show With Jay Leno
show last week.
The actress - who used to have a shoulder-length 'do - admitted there was 'a little misunderstanding' when her hairdresser pal gave her a trim at Christmas.
'I said I just want a little bit off...' Cameron told Jay.
'For a woman to all of a sudden have no hair - oh my God! I felt so vulnerable.
'She started crying. I started crying. A couple other people started
crying. I ended up writing her a few e-mails over the next few days
assuring her I was OK.'
We understand Cameron, we think we may have cried too!
Do you prefer Cameron with a bob or long locks?
SEE PICTURES Cameron Diaz and Paul Sculfor enjoy a loved-up day out>>
Jade Sprowson