Tuesday 27 March 2012
Amber Heard rocks a sexy quiff at the opera in New York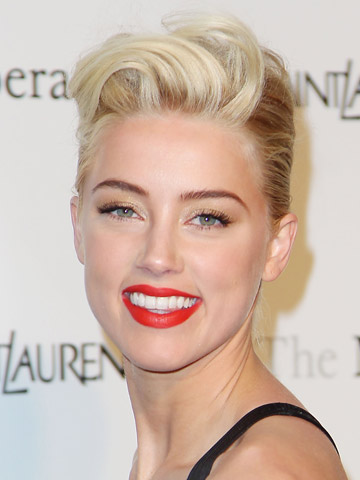 Amber Heard looked stunning in New York last night
The Rum Diary star Amber Heard stepped out at the premiere of Metropolitan Opera's Manon last night with a super-sexy up-do.
Amber, 25, channelled old-school Hollywood glamour at the event in New York's Lincoln Center, which was also attended by Chloe Moretz and Emma Roberts.
The actress rocked a slicked-back chignon which she softened with a bouncy quiff.
She chose not to pin the quiff in place, allowing a few loose tendrils to fall onto her face for an effortless look.
Amber let her stunning hairstyle do the talking as she matched her barnet with minimal eye make-up and a slick of red lipstick.
SEE PICTURES Johnny Depp at the Pirates Of The Caribbean: On Stranger Tides premiere>>
SEE PICTURES Brad Pitt and Angelina Jolie's loved-up date at the Super Bowl>>
SEE PICTURES Angelina Jolie and Brad Pitt nuzzle up at Cannes>>
SEE PICTURES Brad Pitt and Angelina Jolie - a love story in photos>>
SEE PICTURES Angelina Jolie - from sultry teenage to sexy Hollywood star>>
Anna Duff