Tuesday 15 January 2013
Beyond Sun Creams; New Products for a Quality Sun Protection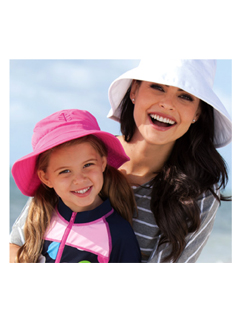 For over a decade, Coolibar has been exclusively dedicated to the development of sun protection products for the entire family; Women, Men, Boys, Girls and Babies.
Coolibar products are comfortable, light and breathable; they shade your skin and keep you cool.
Due to the special micro-fibers Coolibar UV leisurewear is extremely lightweight and provide stylish sun protection all year long; sun hats, UV protective swimwear and sun protective clothing all UPF 50+.
Specialized high quality UV protection fabrics; all UPF 50+ and shield at least 98% of UVA & UVB rays.
Unmatched Testing & Product Guarantee. Endorsed by prominent health organizations.
Why wear sun protective clothing?
Regular summer clothing provides very little sun protection.
Wrinkles and age spots are the least of it. The sun has been proven to aggravate medical conditions, interfere with prescriptive drugs, and to cause skin cancer. Most summer clothing has no sun protective qualities. Your summer weight t-shirts and sun-dresses can let in an astonishing amount of the sun's damaging UV rays. Coolibar sun hats, protective clothing and swimwear use superbly protective, high-tech fabrics to deliver no less than 50 UPF, 98% blockage, yet keep you cool, comfortable and fashionable.

Sunscreen helps but it only goes so far.
You must apply sunscreen every time you go outside. Often you need help. It rubs off and must be reapplied regularly to maintain effectiveness. We offer a safer, easier way to have maximum and dependable protection.
Every Coolibar clothing product is UPF 50+, 98% UV Protection
Why we are so good at what we do.
Coolibar's SUNTECT® brand leads in the creation of innovative new fabrics and the use of proprietary processes for multi-stage testing, each fabric is washed at least 40 times and subjected to over 100 hours of UVA/UVB rays.
Our commitment to you is that we will only offer garments that provide the ultimate protection, not just when you buy them, but every single time they are worn.

Skin Cancer Facts:

Melanoma is the most common form of cancer for young adults 25-29 years. One person dies of melanoma every hour.
Until age 39, women are the almost twice as likely to develop melanoma as men.

A person's risk for melanoma doubles if he or she has had more than five sunburns at any age.

The incidence of many common cancers is falling, but the incidence of melanoma continues to rise.

Coolibar is known for:

Guaranteed Sun Protection. All Coolibar products are rated UPF 50+. Fabric testing is conducted by independent laboratories using a full life cycle test protocol on every dye lot of fabric. Your Coolibar products provide the same level of protection from your first use to the last time it is worn.

Embedded Protection. Mineral sunscreen ingredients, such as zinc oxide and titanium dioxide, are embedded into the fibers of several of our SUNTECT® line of fabrics. The fabrics block 98% UVA (aging) and UVB (burning) rays and the protection won't wash out or fade.

Comfortable, Stylish Designs. UPF 50+ products for the entire family that match a wide variety of outdoor activities and sports - travel, golf, leisure, walking, swimming and gardening.

Cooler in Coolibar. Highly breathable, moisture wicking SUNTECT® fabrics provide coverage that shades your skin and keeps you cooler.

Unmatched Quality at Reasonable Prices. All day broad-spectrum sun protection that is affordable for all. Coolibar is less expensive than multiple sunscreen applications throughout a season and is non-greasy. Sunscreen coverage can be unpredictable and uneven whereas sun protective clothing provides consistent, reliable coverage no matter what. No guesswork.

Committed to Sun Protection Education. Through our outreach program Coolibar Cares and the SunAWARE (simple steps to prevent skin cancers) acronym Coolibar promotes sun safety education and skin cancer prevention.

Skin Cancer Foundation Recommended. Coolibar was the first clothing company to earn the Seal of Recommendation from the Skin Cancer Foundation as safe and effective sun protection.

In Europe exclusively on : www.proteksol.co.uk
Email: info@proteksol.com
Toll Free Number: 00.800.456.456.00