Friday 21 September 2012
Thank God! The violent psycho Phil Mitchell has finally got his groove back on EastEnders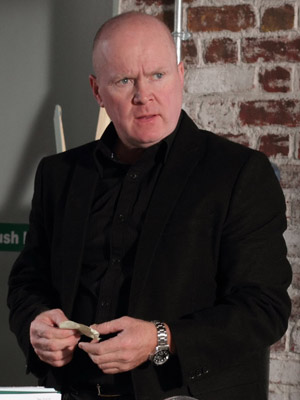 Phil Mitchell from Eastenders: my fave baldy baddy
Phil Mitchell hasn't been himself since his tap-dancing psycho of a son, Ben, got banged up for murdering Hev'.

He's gone all doe-eyed and depressed. Well, obviously you would too in his situation - imagine being the maker of Ben Mitchell. Shudder.

Phil's relationship with Shirley is over - and he's blatantly put on a bit of weight (soz, Phil). All in all, he's become a gigantic girl's blouse.

BORRRRRRING!

But EastEnders never lets me down. Last night saw the best two minutes of the BBC soap in weeks. I dub it 'Phil's Return: The Kasabian Years' (stay with me here).

First of all, Phil ticked Lucy Beale off in the Square when she tried to sell off Ian's fruit and veg stall, and told her to keep the stall 'in the faaahhhmily', or else.
A true child of Peggy Mitchell, right there.

Then he stormed round the Queen Vic and put up the drinks prices, before telling a random punter he would 'break [his] fingers one by one'. Go Phil!

As Sharon whispered, huskily, 'Phil's back', Club Foot by Kasabian came on the jukebox.

Lairy man-music, for a proper, lairy man. Phil loomed over the bar, counting out £20 notes.
Yes, Sharon, you're right. Phil IS back.

Thanks, EastEnders. I'll never doubt you again.
SOAP FILE The latest EastEnders news
SEE PICTURES The EastEnders cast attend premiere of new film Four in London
SEE PICTURES Inside Soap Awards 2011: EastEnders scoops five titles