Monday 03 September 2012
This week's X Factor was way better than last week's – all thanks to sexy Joseph Whelan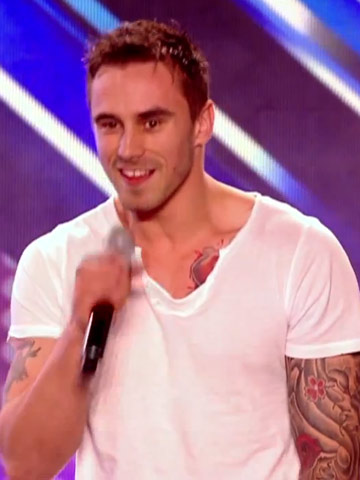 X Factor's looking up with the addition of sexy single dad Joseph Whelan
I loved the first episode of
The X Factor
, with all that crazy mic throwing courtesy of
Zoe Alexander
, and cute Asda worker
Jahmene Douglas
and his astonishing version of At Last.
But the second episode totally turned me off. The best singer - and I say 'best' loosely - was Lucy Spraggan.
I think we have the likes of Ed Sheeran to thank for her yawn-inducing semi-rap trying-to-be-funny-but-not-really whilst playing acoustic guitar thingamee.
Yeah, I hate Ed Sheeran. And I can't cope with a female version, thank you.
And I need eye-candy (oh, come on. That's pretty much what The X Factor is about).
So in steps Joseph Whelan.
This fit, fit, fit single dad from Wolverhampton REALLY did it for me. It's the tattoos! The amazing gruff rock voice. And when he brought his four-year-old son out on stage?!
Heart - officially melted. And even old Scary Spice Mel B's was too!
More of this please, guys.
NEW PICTURES The X Factor UK judges make their debut at Birmingham auditions
SEE PICTURES Tulisa Contostavlos joins The X Factor judges for Manchester auditions
SEE PICTURES The X Factor in Now's 50 biggest talent show scandals EVER!