Wednesday 04 April 2012
Cheryl Cole vs Louis Walsh: It's war!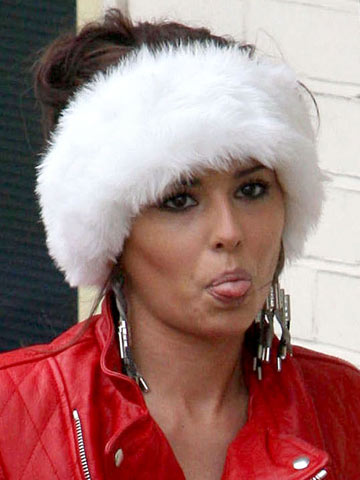 Cheryl Cole: Take that, Louis!
The X Factor isn't even on TV at the moment yet the judges are still fighting it out and this one promises to rumble on as Cheryl Cole and Louis Walsh go toe to toe.

In the red corner with have Geordie brawler Cheryl Cole landing the first sucker punch by accusing her former X Factor co-judge of never managing Girls Aloud and insisting he 'just took the cheque' and never picked the girls' songs.

Over in the blue (or should that be green?) corner we have Irish scrapper Louis Walsh who's never one to take an insult lying down (despite inflicting both Jedward and Wagner on the world) and has immediately hit back at his former colleague, saying that Cheryl is now dead to him.
He fumed to a pal: 'As far as I am concerned, our friendship is over. I've no idea why she's made these comments but, in my eyes, it says a lot about her.' Ooh!

As showbiz fall-outs go this is particularly spectacular, especially seeing as both Louis and Cheryl love a public scrap. If only Louis was on Twitter this one could get epic.
What's with these celebrity judges arguing when Simon Cowell isn't telling them to?
It's almost managed to put Will.i.am and Jessie J's tiff on this Saturday's episode of The Voice to shame where the normally mild-mannered coach falls out with Jessie over a singer called Joelle.
(On a different note - The Voice have been putting Britain's Got Talent to shame every Saturday night. Controversial?)
But anyway, how are former friends Cheryl and Louis going to sort out this latest little tiff?
We like Cheryl, but then again we also like Louis. There's only one thing for it... FIGHT!
SEE PICTURES The life of Cheryl Cole>>
SEE PICTURES Cheryl and Ashley Cole: The story so far>>
FASHION GALLERY SPECIAL Cheryl Cole's fashion history - the highs and the lows>>
CELEBRITY HAIR Cheryl Cole: From corn rows to curls>>
PICTURES Cheryl Cole flies heads home from California>>
PHOTOS: Cheryl Cole arrives back to UK from LA>>
SEE PICTURES Cheryl Cole rocks Bangor>>