Thursday 30 June 2011
Glee Live! In Concert! is the most fun you'll have with your clothes on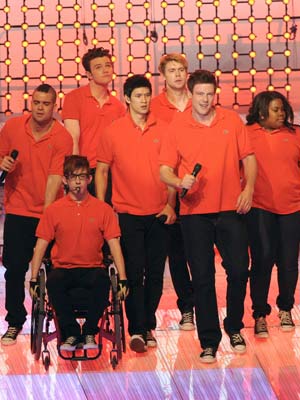 The Glee cast on stage at London's 02
When I heard that the cast of Glee were going to be touring the UK I was
besides myself with excitement.
As a self-confessed Gleek and huge fan
of the show, I couldn't think of anything I'd love to see more that the
New Directions performing live in concert.
After an agonising 8 month wait - which in my opinion was well spent
swatting up on the show's tunes and dance routines - the day of the
concert finally arrived and I was filled with a mixture of anticipation,
excitement and fear that it might not live up to my ridiculously high
expectations.


After a few glasses of wine and ridiculously strong cocktails in the 02
Blue Bar, I found my way to my seat (which to my delight was very close to the front) it was show time.
The evening kicked off with the LXD dance
crew who got the crowd suitably hyped-up for the main show and as soon
as the familiar intro of Don't Stop Believin' filled the arena, all of my
concerns disappeared - the cast are just as amazing live as they are on TV.
For the next hour and a half, the William McKinley High pupils had almost everyone up on their feet singing and dancing as they belted out hits from both series one and two including I'm A Slave For You, Valerie and Somebody To Love.
The highlights of concert for me? One has to be Chris Colfer in a leotard performing Single Ladies. another was
Cory Monteith - he is even more gorgeous in real life. Being within touching distance of Mark Salling was pretty enjoyable and Gwyneth Paltrow's surprise performace of Forget You was amazing - who knew she could sing so well?!
The only thing that would've made the night even more memorable woud have been an appearance from acid-tongued Cheerio's coach Sue Sylvester, but you can't have everything.
Despite my sore feet from dancing, sore throat from screaming and sore
head from drinking I can safely say that Glee Live! In Concert! is the
most fun you will have with your clothes on.