Wednesday 08 June 2011
The Apprentice: Edna Gets Dirty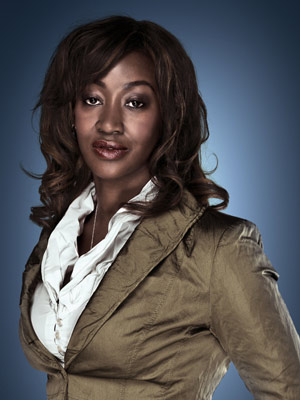 Edna Agbarha: She's got a lot of qualifications, but no modesty
Ding dong the witch is dead!
Evil Edna
has got the push from
The Apprentice
.
Edna 'Have I mentioned I've got lots of qualifications' Agbarha got right up my nose on week one, but really came to her irritating best in week two where she led the worst presentation known to man in the most sinister pair of gloves I have ever seen.However this week's task of making money out of scrap really did prove she was a load of old rubbish.
It was the usual bitchfest again this week - as always the women laid into each other at every turn while the boys just shuffled in the background
Zoe Beresford must be the most miserable woman in the UK. When she cried it almost made her human. Almost. She has just moaned and bitched her way through with a face that looks like it sucks lemons for fun. She talks over people and is as dynamic as a slug.
Susan Ma is rather annoying but I don't know how she doesn't start attacking the others with her stilettos when she's stood there saying a good idea and they just totally ignore her. A bit like Tom Pellereau.
The only saving graces were they managed to get all loads of copper and they only lost by a measley £6.
Where there's muck there's brass and where there's The Apprentice there's a room full of egotistical idiots. After last week's double firing that saw Ellie Reed and smooth b*****d Vincent Disneur become the last casualties of the boardroom I think there could have been a double sacking this week too.
From thinking Jim Eastwood was a dead cert I could have happily seem him gone. He's getting more aggressive and his technique of just shouting at houses through a loud speaker to se if they would give him scrap didn't seem like the most inspired idea. I also thought he was going to thump the builder who pulled a fast one on the by cheekily putting more rubbish down for them to take away [although to be fair I would have probably have had to be restrained too].
Helen Milligan is the new favourite for the title and next week's magazine designing task is likely to make me want to kill. Brilliant.