Thursday 19 May 2011
The Apprentice: Goodbye Gavin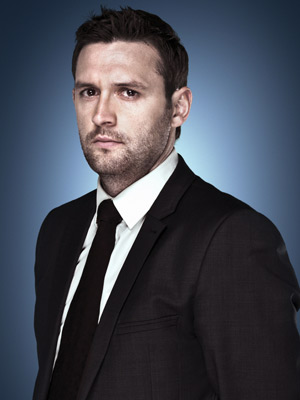 Optician owner Gavin Winstanley didn't see it coming
These are supposed to be some of the
brightest business brains in Britain
. No wonder we're in a recession. This week's task on
The Apprentice
was the old favourite 'buy ten items for the cheapest price' one, this time purchasing producs for
The Savoy
. Easy? Apparently not.
OK, so the hopefuls don't get to Google anything, but have to go old school with a Yellow Pages and a phone. We did all cope without the internet you know?
Susan Ma led one team and Gavin Winstanley got the other - and clearly the worst deal. Gavin had to deal with a team who completely ignored him throughout the task but worst of all he was landed with 'ladies man' Vincent Disneur who makes me feel a little bit queasy every time his smarmy smile appears on the screen.
Looking uncannily like a cross between McKenzie Crook and Peep Show's Super Hans, Vincent has a very high opinion of himself without anything to back the delusion up. He thought he was chosen as the sub team leader because he could 'be in charge of three strong ladies'. This actually meant that he didn't trust them to do anything and repeatedly tried to close their deals for them.
Now admittedly on occasion with Natasha Scribbins [who had already phoned the Ritz and insanely asked them to give her all their contacts] this was probably needed. However, it was hardly like he was salesman of the year. The team's main downfalls were the inability to find half of the items, but in my mind because not one of them knew what a Cloche was. Idiots.
Over on Susan's team they looked and acted the part, but were completely rubbish at getting a good deal. They went to the most expensive shops in Mayfair and wondered why they wouldn't budge on the price. Possibly because when you run a milliners in Mayfair you don't have to give a discount. They finally managed to get a penny off. Woo. Hoo.
Best come back ever on the series though has to go to the woman running the fabric shop who when told they needed a discount because the fabric was for 'a very important client' she quite right replied: 'How would that make a difference to me?' Quite. The star of this week's show though was Jim Eastwood who got the best deals and appeared to know what he was doing. Ladies and gentlemen, I think we have a contender.
In the end it came down to a difference of just over £7 between the teams. Luckily the worst time lost and Gavin found himself in the boardroom with Vincent and Zoe Beresford [who had faded so far into the background I forgot she existed]. Lord Sugar gave Gavin the chop and although we all saw it coming, I still think I would have sacked Vincent myself for that moustache alone. Oh well, there's always next week...