Sunday 13 March 2011
Let's Dance For Comic Relief: Russell Kane's a Loser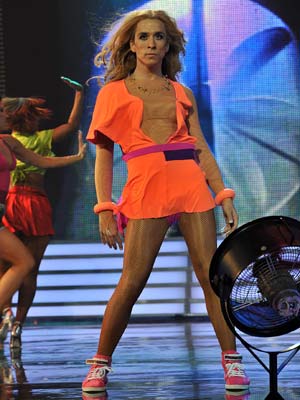 Russell Kane or Beyonce? Jay Z is very confused right now
I never thought I would see
Jordan
and
Noel Fielding
dressed in drag dancing to disco inferno, but thanks to the magic of
Let's Dance For Comic Relief,
this frightening sight was mine and the nation's to behold on Saturday night.
It has also done something that I never thought possible - it's made me not hate Katie Price.
I know the funny bits before the dance are written for her and her acting is, at best, wooden, but there's something about her openly taking the piss out of herself that warms her to me.
I know. It's wrong, but something about that fake moustache and armpit hair just feels so right.
The finalists this year were all of a high caliber. 80s Supergroup excluded (I once interviewed Chesney Hawkes while he was topless and this has scarred me for life).
My favourite two were Russell Kane and Noel Fielding. There's something very British about laughing at men dressed as women. They were also really bloody good.
Sadly despite backing from Russell Brand, Noel's elegant performance of Kate Bush didn't cut the mustard.
More surprisingly though was that Russell Kane's strangely sexy Beyonce routine was beaten for two blokes tap dancing.
I'd love to say I knew who they were, but all I can tell you is one is married to the girl off Gavin And Stacey and the other is on Emmerdale. Strange.
But there was a bigger travesty going on.
Namely the fact that Lee Nelson didn't get through with his spectacular Club Tropicana.
Now that was funny. And strangely erotic. Just me? Oh...
Watch the (really rather good) Let's Dance For Comic Relief winners here>>
Oh, if you enjoyed Let's Dance For Comic Relief, don't forget to donate to charity here>>
See Now's exclusive photo shoot with Let's Dance For Comic Relief star Russell Kane>>
PHOTO GALLERY Catch up with Russell Kane and Let's Dance For Comic Relief 2011 in pictures>>