Thursday 07 June 2007
Emily's spiteful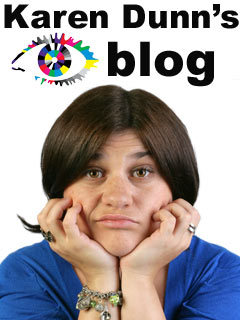 Tracey first thing in the morning is a truly frightening sight. But I loved her private rave in the diary room. I want one! Ave it Trace, 'ave it like you've never 'ad it before. I love her 'Party' pants too.
This week I have been practicing mind control techniques on Ziggy [which to be honest mainly involves watching Derren Brown videos] since I discovered only he could nominate. It has obviously paid off as Ziggy chose to put up my two favourites for nomination and for the exact reasons I wanted to him to. Hurrah!
Emily was low tricking Ziggy into revealing his nomination. He wasn't upset as Emily said: 'because his ego was bruised' it's because she's a spiteful little girl.
Yes, Emily you did say Chanelle has a game plan. I can rewind my TV and I can assure you, you did. I'm sorry Emily, are your opinions being quashed? Are you wilted? Please stop the bad ameteur dramatics it's irritating. Ziggy shouldn't have shouted at her, I agree, but once again, shut up Emily.
I still hope Shabnam leaves on Friday. I'll give her a hand with her suitcase if she likes?
She is a lazy self-absorbed oaf, who wears more make-up than Jodie Marsh. A feat I previously thought impossible. I'm glad she got the punishment too, but I hope she doesn't shit in public like she threatened. However, it may be the only way for her to get the media exposure that she craves.
I feel for Lesley. Listening to a group of tuneless girls sing Barbie Girl would send me over the edge too. I like Carole, but like Lesley said I know no more about her now than I did on day one. Lesley is a shrew old bird.
I am torn this weekend. I am going to the Isle Of Wight festival tomorrow and although my Sky Plus is all set up so I don't miss any action, my viewing and blogging is likely to be, like Tracey at a rave, patchy at best. I shall do my best, but so far my requests to the festival and their wonderful sponsors Virgin Radio to put Big Brother on the screens either side of the stage have fallen on deaf ears. The fools!