Thursday 20 October 2011
Day 5: Riding it out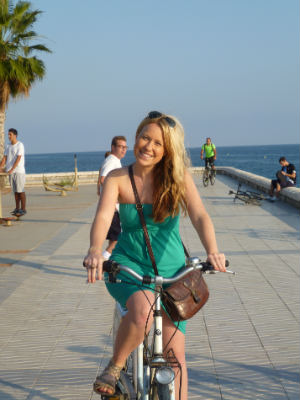 Getting out and about on a bike tour in Malaga
I've never been on a fitness retreat before so even though I'd had a good chat with owner Tag prior to my visit I really wasn't sure what to expect.
I've always put fit camps under one 'boot' camp umbrella- were you're expected to be up jogging in the freezing cold at 5am and fed minimal portions three times a day.
Well here's the difference, Marbles pride themselves on not being a bootcamp. They are a fitness retreat who change their programme to suit each individual.
They have all shapes, sizes and ages coming to visit them. Some just after a 1 week yoga retreat, whereas others may want an intense fitness programme to shed a stone.
Forget about measly portions, we've been fed large salads filled with juciy prawns and amazing cooked pork dishes that have definitely filled hungry holes.
And the exercise has been there to complete,varying from personal training sessions, horse riding to a bit of sightseeing around Spain.
I cycled 7km around Malaga today, working out and sightseeing all in one successful swoop - who said exercise had to be dull?!
Throughout the programme owners Tag and Sarah have listened and took into consideration everything we've said and that's what makes Marbles such an amazing place to come. You really feel special and cared for, which unfortunately can be lost at these fit farms that are simply offering a quick fix of intense exercise and limited food.
It's the big weigh in day tomorrow, fingers crossed the LPD fits!
But even before my weight is revealed I know inside and out I feel good. My skin is clear, my eyes are sparkling and I'm feeing totally refreshed- now I don't know about you but that's a result in itself.
On our morning hike amongst the olive groves before the sun has even risen
The perfect pilates 'plank' position. How long can I last...
I give up