Wednesday 19 October 2011
Day 4: Feeling good at Marbles fitness retreat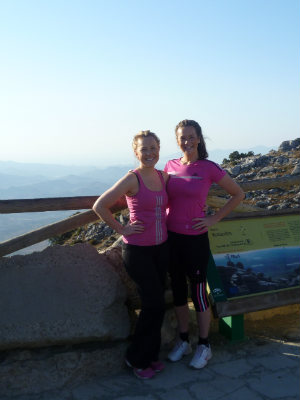 Another day, another mountain..
Wayhey the detox is working!
My skin is glowing and although I'm physically worn out I've been
waking up with more energy every day. The caffine is no longer present
in my body and all the refined sugars have been totally rid of- so I'm
feeling good!
To top it off I've got a lovely sunny glow and whole new smattering of freckles, another benefit of this wonderful retreat being based in sunny Andulucia.
Today we went for an amazing hike around a mountain (let me get back to you with the name- excuse my exercise brain) which offered some incredible views, then we where whisked back to Corjito Uribe for our usual 2 hour cardio and pilates session with Ann, our personal trainer.
Onto a horse riding lesson with Christine, owner and teacher of the riding school based at the Corjito- she is one patient teacher I can tell you that, as was Jasper the horse.
Now I know why Abbey Clancy has a body to die for, if she's working those buttocks and abs on a rising trot everyday.
We jumped off the saddle and straight into takwando a class with Les Meehan. We were pleasently surprised by how much we enjoyed the high kicking and controlled punches, this will be something we will seriously look into taking up when we get back to London.
Lastly I finished the day off with an amazing sports massage from Sarah, who kneaded out all of the tight knots and tension in my muscles caused by the exercise I've put my body through over the past 4 days. Although it can be a touch painful, this is definitely one part of Marbles I appreciate the most.
So folks I'm afraid it's time to call it a day- I'm feeling
tired and want an early night ready to give it my all on my last day
tomorrow!