Tuesday 18 October 2011
Day 3: Taking a leaf out of Rihanna's diet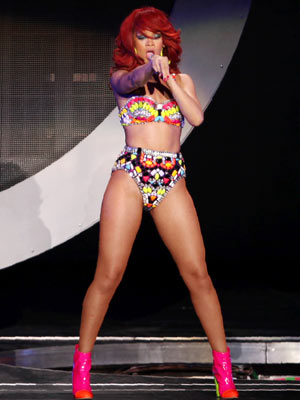 RiRi has a body to die for with the help of a low GI diet
Everyday without even realising it we are in someway admiring our favourite celebs trim figures. I mean I'd die for
Abbey Clancy'
s legs,
Kelly Rowland's
abs and
Pippa's
bum- who wouldn't?
We all believe it would be impossible to achieve their bodies without the help of personal chefs and gym trainers pushing them every day to their very max.
I'd look like Kelly Rowland if I had a personal chef greeting me with a freshly prepared grilled swordfish and vegetables after an 8-hour day at Now mag and a gym trainer helping me sweat out every fat cell in my body.
Unfortunately I'm not lucky enough to lead the spoilt lifestyle of a superstar, but Marbles has given me a quick fire experience of the above and taught me how I can take it back with me to London- but the definite message is you must want to do it.
This week we have been following a low GI (glycemic index) diet, which follow's in very similar footsteps to Rihanna's low carb, good fats and high protein diet way of eating.
RiRi doesn't get that famous warrior body by pigging out on burgers and crisps everyday, neither does she maintain her fabulous toned curves by starving her body. She gets her energy for her dancing with a high protein diet and eats 5 times a day.
This week we have been lucky enough to experience our very own personal chef, Darin, who has whipped us up some deliciously healthy meals everyday- ok they do have a chefs touch but these meals are super easy for me make at home.
On a typical day we've been eating a mushroom omlette and grilled tomato for breakfast, lunch we've had kings prawns and salmon, and dinner has seen us tucking into a pork stir-fry with green beans.
Also throughout the day we've snacked on handfuls of nuts which has kept us going through all the exercise and surpisingly enough we haven't been too hungry!
Lunchtime- our favourite part of the day (look at those smiles!)
A typical low GI lunch- fillet of salmon with king prawns & mixed salad- yum!
Our mentors Tag and Sarah also went through our diet plan in one to one counselling session and have also kindly offered to help us create a shopping list for our return back to our hectic lifestyles- we really couldn't ask for much more.
Also I must say a special thank you to Paul, who unfortunately (for him) had the pleasure of an afternoon of mountain biking with us two moaning sisters. If one wasn't falling of the bike, the other was complaining of sore bum cheeks. I must applaud him on putting up with us for 2 hours!