Monday 17 October 2011
Day 2: Tapping like Alex Reid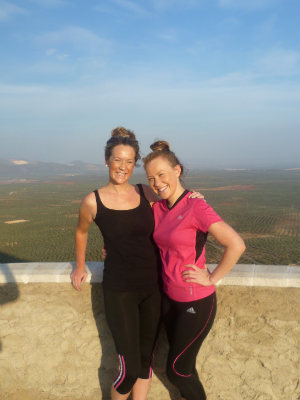 Yep that's us on the top of a very steep hill at 9am
Today wasn't as full on as yesterday, I say that yet we still dragged our tired limbs up a ridiculously steep hill and had personal trainer Ann working us into the ground again for another two hours.
But we also sat back and did some thinking about why we want to lose weight and how we can stop our cravings with Les Meehan professional EFT (Emotional Freedom Techniques) therapist.
He told us to search for our food problems ie. Michelle's cravings for all things bad and then taught us some simple tapping exercises to combat these cravings.
He even tormented us with a bag full of chocolate, firstly making us smell the lucious creamy Kinder Bueno then had us tapping, taking our cravings down from a hungry 8 to a not so bothered 2.
Celebrity Alex Reid is said to use EFT to help him deal with the stresses and challenges he faces with his new found "celebrity" and it's also rumoured Cheryl Cole use EFT to help her overcome problems faced in her relationship with husband Ashley Cole.
Who would of ever thought I could combat my bread craving with a few taps around the body. Maybe I'm still a bit sceptical but it's definitely worth a try if Cheryl's doing it...
On a lighter note, Marbles mentors, Tag and Sarah commented on my slimmed down tummy before I was promptly saddled up for a two hour a horse-ride.
Tummy down, backside to go!