Sunday 16 October 2011
Day 1 on holiday butt camp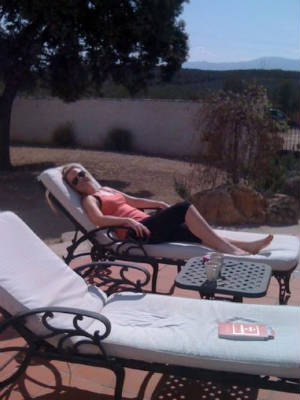 "Please let me lay here allday..."
I've just completed day one at the Marble's Weight fitness camp and don't I bloody know it.
After working out for 7 hours, yes that's 7 hours of exercise it would be fair to say that Shell and I are well and truly pooped!
We started bright-eyed and bushy tailed at 8am for a 2 hour walk amongst the olive groves.
A quick snack and we were then greeted with Ann our very own personal trainer, who had us sweating over the cross trainer and promptly straight on the mat for some pretty hard-core Pilates style moves- this girl completes marathon triathlons in her spare time so you can imagine the pace she had us at for those 2 hours.
A sneaky siesta by the beautiful pool and a bite to eat and we were off for another 2 hours of mountain bike riding.
And just when we thought it was over it was 20 minutes of water aerobics. Well at least my Victoria Secret's bikini came to some use, although maybe not what it's used to.
After an amazing much deserved deep tissue massage off mentor Sarah I'm ready to crash like the majority of you front of X Factor (feeling slightly smug that I'm knackered from exercise rather than the usual Sunday hangover!)
Catch up with more tomorrow...