Monday 26 July 2010
The New IT Bag - the Mulberry Neely Tote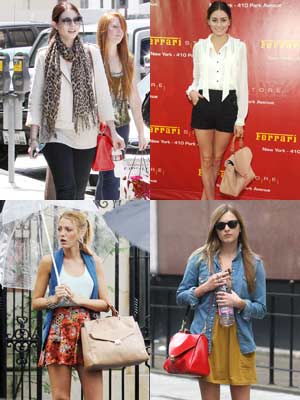 The Mulberry Neely Tote - the new IT bag
When you spot not one, but four celebrities with the same style bag you just know there is going to be a waiting list - especially when the celebs in question have used it on more than one occasion.
The Mulberry 'Neely' tote is the new 'it' bag around town - it's the perfect tote with a hand and shoulder strap making it easy to use from day to night.
We spotted Gossip Girl stars Blake Lively on set with the camel version and fellow GG star Michelle Trachtenberg with the red version.
Fearne Cotton has been swinging her bag one around London for weeks and New York fashionista Olivia Palermo has taken her Neely to many red carpet events.
I love the fact that it is named after the character Neely O'Hara in one of my favourite books The Valley Of The Dolls by Jacqueline Susann.
Neely is a beautiful child-turned-adult star who gets hooked on prescription drugs and diet pills - the 'dolls of the title - and was rumoured to be based on Judy Garland.
This cult book caused outrage when it was first published in 1966 - but it's a must-have holiday beach read. It was also made into a movie the following year.
Time will tell if the Neely tote will outsell and cause a mile long waiting list like the Mulberry 'Alexa' - named after Alexa Chung - that launched last year.
Watch this space....