Wednesday 18 July 2012
The Big Up Britain manifesto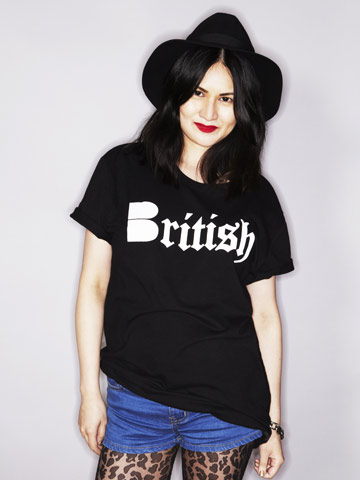 Style Editor Alison Tay rocks a design from B Side By Walé's Big Up Britain range Photo: Vincent Dolman
With all eyes on London, we'd better be sure we're looking the part.
Luckily, thanks to Walé Adeyemi's Big Up Britain striking statement Ts created to celebrate London 2012, B-side by Walé fans Eliza Doolittle, Misha B, Fazer, Labrinth and Plan B have even more reasons to be proud to be British.
Walé, the first street wear designer to have been MBE for services to fashion, tells me,
'Being based in Brick Lane for over 18 years I'm fiercely proud of London and the East End. It's cool that this summer London's been the centre of attention and investment this side of town, but it doesn't take the Diamond Jubilee, the Olympics or anything else to prove to me Britain's the best country in the world.'
Walé continues, 'London is my home. I wanted to champion the real Britain. It's the diversity and subtlety of our culture that keeps London at the forefront of creativity.'
'I've kept the Big Up Britain collection simple and understated. The colours are black and white to avoid the obvious red white and blue and I used a traditional olde English font.'
Walé stresses, 'This isn't an Olympic inspired range, this is a British inspired range. Like Britain, and its people, this line will be here long after the Olympics have left town.'
I'll definitely be wearing mine with pride in 2012 and beyond. God Save Walé Adeyemi!
The Big Up Britain Ts are £30 each in black and white. Misha B's zebra T is also £30.
Shop online at B-sidebywale.com >>
Follow Walé Adeyemi on Twitter >>
Alison Tay