Wednesday 06 June 2012
When b-boys meet ballet girls…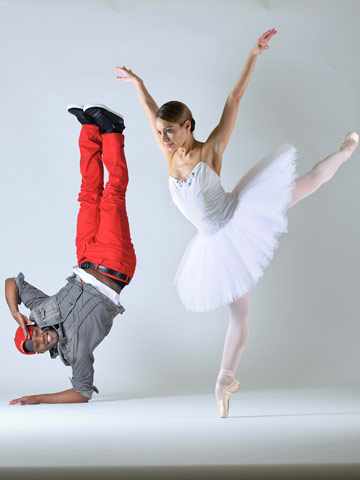 Against Time starring Flawless and the English National Ballet is touring until 8 July 2012
A chance meeting at Buckingham Palace led to Britain's Got Talent dance crew Flawless and the prima ballerinas of the English National Ballet hooking up to create their latest show Against Time. So it's only fitting the Against Time tour kicked off the Diamond Jubilee Weekend.
Choreographed by my boy Marlon 'Swoosh' Wallen from Flawless and the English National Ballet's Jenna Lee, Against Time is an explosive mix of classical technique and breath-taking tricks that not only fuses two dance genres but brings together two audiences.
Flawless and the ballerinas play pupils at the All Star Academy where their maniacal Professor - in a stand-out perfomance by Christian 'Bounce' Alosie from Flawless - discovers the power to control short bursts of time. Spellbindingly choreographed chaos ensues.
Tchaikovsky's Dance Of The Little Swans gets a hip hop remix, and if you ever wanted to see Flawless do pliés and port de bras at the barre, Steady Steadman in a tutu, and the ENB's corps de ballet give the Pussycat Dolls a run for their money now's your chance.
The only time I wasn't grooving in my seat thanks to the perfectly pitched soundtrack including Labrinth's Earthquake, Justin Timberlake's Sexy Ladies and Maroon 5's Moves Like Jagger, I was on my feet giving this five-star dance-fest a standing ovation.
Flawless prove they're not just a street crew but also lyrical and contemporary dancers, actors, artists and leading men.
And just when you thought ballerinas couldn't be sexy, the English National Ballet give Flawless a lap dance en pointe. And yes, I've already begged them to teach me those moves...
ACCESS ALL AREAS: See Flawless and the English National Ballet in rehearsals...
Book tickets for Against Time starring Flawless and English National Ballet >>>
Follow Flawless on Twitter >>>