Thursday 10 May 2012
Vidal Sassoon: The inspirations behind the icon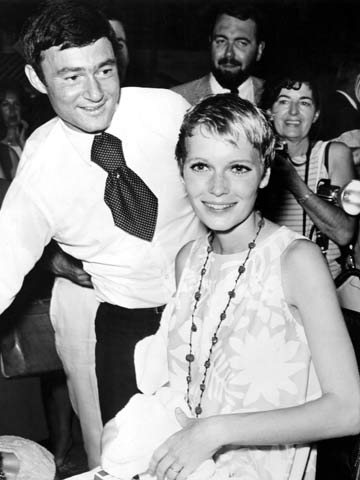 Vidal Sassoon and Mia Farrow on set of Rosemary's Baby
The world has lost a genius and a gentleman with the passing of Vidal Sassoon.
When I was editor of Now Celebrity Hair magazine, I was honoured to have interviewed the legend himself about his inspirations, icons and how his genius shaped the fashion world in the 60s and beyond.
To celebrate the life of Vidal Sassoon, here's my interview in full.
'I'm a great jazz fan. The first place I visit when I'm back in London is Ronnie Scott's jazz club in Frith Street. I'd known Ronnie since we were 16, growing up in Stepney, East London. Even then he played a great tenor sax.
Mary Quant is my favourite fashion designer. Now there's a lady with grace, charm, and style. During the wonderful fashion explosion in the 60s, the whole of the Kings Road was her atelier.
Trevor Sorbie is like a son to me. He worked with me for years and has put his own spin on traditional hairdressing techniques. He's a delightful young man and I'm very proud of him.
The Pianist is a movie I could watch over and over again. It's
directed by Roman Polanski - who I've known since I cut Mia Farrow's
hair for his film Rosemary's Baby in the 60s - and it's about a man who
never lost hope.
Capri on the Amalfi Coast in Italy is my ultimate holiday destination. I spent a month there last year with my wife Ronnie. It's very charming and I don't know anyone that doesn't love it there. You have to go out to sea during the day. If you don't have a boat, forget it.
I still have my Chelsea FC season ticket and never miss a match. Even though I live in Beverly Hills now, I make sure I'm up at 430 in the morning in time for a 1230pm kick-off in England.
I drive a black-on-black E-type convertible Jaguar. I change it every year and like to think of it as a little piece of old England here in California.
Kelly Osbourne has the best hair in Hollywood. Her colour makes a great statement. She may not be the slimmest or prettiest girl in the world, but she can really carry it off.
My new hairdryer is a work of art. Marc Newson designed it and I have one in every bathroom of my house in Beverly Hills. It's minimalist, modern and a symbol of what heated hair appliances could look like.
L'Etranger by Albert Camus is my favourite book. It's about one man's isolation. Within us we are all alone. The real challenge is to turn that loneliness into something positive.
I'll always remember the first time I heard Gustav Mahler's 8th Symphony. It's instensely moving and the fusion of 800 voices and a 200-strong orchestra gave me goose bumps.
I'm inspired by architecture and I've always admired the Seagrams building in New York for its symmetry and balance.'
Alison Tay