Monday 02 April 2012
Meet The Kooples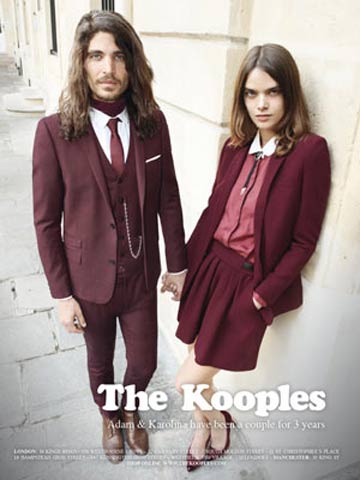 Adam and Karolina - the poster couple for perfectly co-ordinated partners
This season's hottest accessory is a plus one if the latest store setting the high street is anything to go by.
From the bohemian boulevards of Paris, The Kooples is Comptoir Des Cotonniers' wild, wayward sister and her dead-beat boyfriend with iconic ad campaigns featuring oh-so-picture-perfect model/ muse pairings in his 'n' hers in beautifully tailored, artfully layered looks.
Mr and Mrs merchandising may be an innovative marriage of menswear and womenswear, but does it mean you need a man in your life to shop there?
The day I sneaked into the store to find out, I got busted by my mate Hamish MacBain Assistant Editor of NME, who was buying an LBD for his celebrity make-up artist girlfriend. Obviously.
Despite being one half of the fashion scene's most covetable Koople,
even Hamish has his doubts about off-the-shelf rock star styling pour
homme and pour elle.
'Fashion's always been driven by rock 'n' roll because music's the first thing that brings people together as a tribe but musicians shouldn't look like they've slaved over their look. Keith Richards never looks like he's getting dressed thinking, "Does this go with this?"'
And us single stylistas can take heart. According to Hamish, 'You should never, ever dress like a couple. The whole point of fashion is individualism. The minute you dress as a duo, you lose your uniqueness.'
So until I find a male model muso to strum twee melodies to me while I style us in matching outfits, it looks like this is one trend I won't be buying into...