Monday 06 February 2012
Geri Halliwell's Diamond Jubilee message to The Queen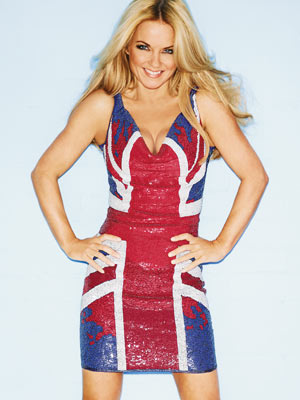 Geri's dress is £199 from Geri By Next with proceeds going to the Youth Sport Trust
Geri Halliwell has made the Union flag her own, thanks to her infamous Brit Awards frock. And to celebrate the Diamond Jubilee today, Geri Halliwell has the following message for the HRH Queen Elizabeth II.
'You're a lovely queen. You're doing a great job. Well done.'
At the launch of her Union Jack collection for Next, looking hotter today than she did 15 years ago at The Brits, the Spice Girl told me,
'I've always made my own clothes since I was a little girl. I was a terrible sewer, but I was always cutting, and customising,' Geri admits.
'My Brit Awards outfit was purely and simply me wanting to be original and celebrate Britain. It was made out of a Union Jack tea towel stitched onto a Gucci dress.'
Frida Giannini look away now!
Geri by Next's Union Jack collection hits stores in March 2012
Don't miss my full interview with Geri Halliwell in this week's Now Magazine