Tuesday 24 January 2012
Meet Giles Deacon's dream date...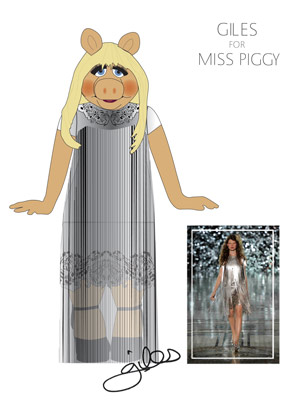 Miss Piggy's frock for The Muppets premiere has been created especially for her by fashion sweetheart Giles Deacon
There are no absolutes in fashion other than this: there isn't a fashionista who isn't in love with Giles Deacon.
And that now includes Miss Piggy who - according to The Muppets movie - is now the Plus Size Editor of Paris Vogue.
So when the designer darling poses for the paparazzi with Miss Piggy - who'll be wearing a dress he's created especially for her for The Muppets premiere - hearts will be breaking all over fashionland.
'My dream date needs to be good fun, doesn't take herself too seriously with good sense of adventure,' Giles told me in a swanky suite at The Savoy recently.
'I'm honoured to be asked to design a dress for such an iconic character
and am excited to see Miss Piggy showcase my creation on the red
carpet.'
'Miss Piggy has been a fashion inspiration for many years so I
thought long and hard about the finest way to bring out her best
features. I feel certain that Miss Piggy will be a natural in the
spotlight and hope my dress helps her to start the night in style.'
Better luck next time, ladies...
© 2012 Disney
Disney's The Muppets hits cinemas on 10 February 2012